So, what can I say about Savor? Let me give you an example of me finishing this AWESOME book with a little help from Sulley...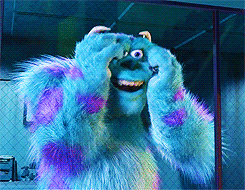 Savor is told by Dakota Collins, our photography student and eye patch wearin' MC as she prepares to graduate from college. On a job for the school paper, Dakota has a once in a lifetime meeting with the world famous rock band, Vicious whose bassist Luka Visraya is smokin' hot (okay, the whole band is smokin' hot) and difficult to figure out and she ends up getting the chance to photograph the band for her final project which means she'll be spending a month at Lunar Manor.
The story is really an all-around fun way to pass the time, the banter between everyone kept me cracking up and the sexual tension between Dakota and Luka was hot and sweet but Savor is a great deal of romance and you don't really start to learn of anything paranormal until the very end of the book so I am definitely looking forward to Relish because of that. Also, fair warning, there are some smexy, smexy scenes in Savor peeps, lots of swooning and fanning will commence for you when reading this.
In conclusion, Savor has everything you need for the perfect book, loveable characters, hot rockers, beautiful music and an ending to keep you hooked.
*Thanks to Kate Evangelista for my review copy of Savor!*